Introduction
Our fish feed production line can be used to produce various sizes of high-protein floating feed and sinking feed. Our machines can be configured according to output capacity requirements. For fish farms and fish feed mill , we will conduct one-to-one customized production according to the electrical power capacity and client's workshop space . The size of the mold is designed and made based on the fish species and the age of the fish.
According to different raw materials, we can equipment dry extruder and wet extruder in the production line for customers. We can also provide hammer mills, teeth disc mills, super fineness mills, etc. to process raw materials. Our multi-energy heating dryer can dry out the moisture from fish food pellet to ensure the good storage of the fish feed. We can also provide packaging machine solutions to meet your packaging and storage requirements.
At the same time, our fish feed machine can also be used to produce dog food, cat food, bird food, turtle food, and other pet food.
Flow Chart of fish feed processing machinery :
Raw material mixing 》Extrusion 》Drying 》Flavoring 》Cooling 》Packaging
Sample: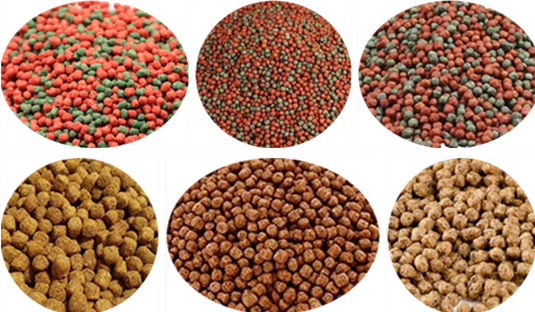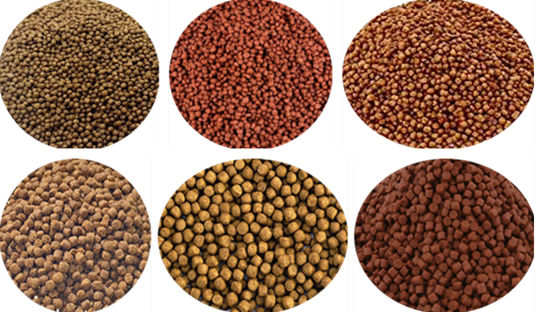 Parameter
Dry extrusion lines
Model

Install power
(kw)

Power consumption
(kw·h)

Capacity
(kg/h)

Dimension
(m)

JY-65

76

53

140-160

17×2.0×2.5

JY-70

105

75

240-260

22×2.0×2.5

JY-85

178

125

400-500

26×2.5×3.5

JY-90

215

165

800-1200

40×3.0×4.0

JY-95

256

195

1000--1500

42×3.0×4.0
Wet extrusion lines
Model

Install power (kw)

steam consumption
(kg/h)

Capacity
(t/h)

Dimension
(m)

JY-0.4-0.6T

80

160-240

0.4-0.6

28×3.0×4.2

JY-0.8-1T

90

320-400

0.8-1

30×3.0×4.2

JY-1-1.5T

120

400-600

1-1.5

35×4.0×4.5

JY-1.5-2T

160

600-800

1.5-2

40×4.0×4.5

JY-2-3T

200

800-1200

2-3

45×5.0×5.5

JY-3-4T

270

1200-1600

3-4

48×6.0×6.5

JY-5-6T

390

2000-2400

5-6

52×6.5×8.0