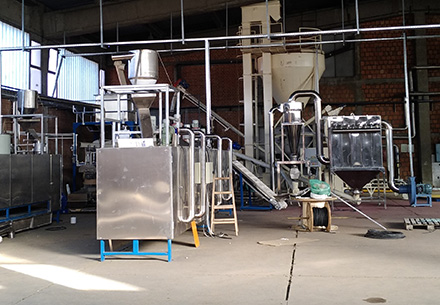 In 2016, Serbia UOC Industry and Shandong Joyang Machinery signed a long-term cooperation agreement on the modified starch production line. In the following years, they purchased multiple modified starch production lines from Shandong Joyang successively. As the date of setting up factories in several neighboring countries approaches, new cooperation is under discussion.
In 2016, UOC Industry contacted Shandong Joyang to consult about the related issues of the modified starch production line. Through the initial communication of our sales manager, Shandong Joyagn has been fully recognized by UOC Industry. The UOC inspection team led by Chief Engineer Marko came to China and had a detailed interview with the Joyang's engineers.
During the communication, we learned that modified starch as an industrial material has a huge consumption and export volume in Serbia. They have extremely high requirements for equipment capacity and product quality. At the same time, in order to ensure the life of the equipment, the hardness and corrosion resistance of the materials have also become important indicators for them to select suppliers. Joyang's engineers have made special customization according to customer needs, whether in equipment material or architecture.
After comparing multiple suppliers, the customer finally decided that our company provide a complete line of large-capacity modified starch production line from mixing-extrusion-drying-cooling-granding-packaging as a trial order.
In the following years, the running of the production line has been highly praised by customer. As the industry continues to expand, customers have also repurchased many times from our company. Joyang continues to provide equipment support from A-Z. Joyang's continuous reform and innovation make customer has a higher evaluation of the equipment. Even with the current epidemic, it has not stopped the client's project plan to set up new factories in neighboring countries. And our new discussion is also in progress